Zoe Stroller Wheels - Options & Details
Updated 21 days ago
What's in this article:
Everyday Wheels
The perfect blend of our Lightweight Travel Wheels and our All-Terrains, our Everyday Wheels are ideal for sidewalks or light off-roading. They're lighter and smaller than our All-Terrains, but more durable than Lightweight Travel Wheels. These wheels are our most versatile option & come standard on our Twinᵛ², Trioᵛ² and the Tribeᵛ² strollers.




All-Terrain Wheels

With a larger diameter and bigger tread, our All-Terrain Wheels are designed for wherever your adventure takes you. If you find yourself off the beaten path often (think chasing kiddos through a field or maybe just battling those city sidewalks that haven't been repaired in 30 years), these wheels are for you. They are about 1-1.5" larger in diameter than our other wheel options, helping you navigate the bumps of life with ease.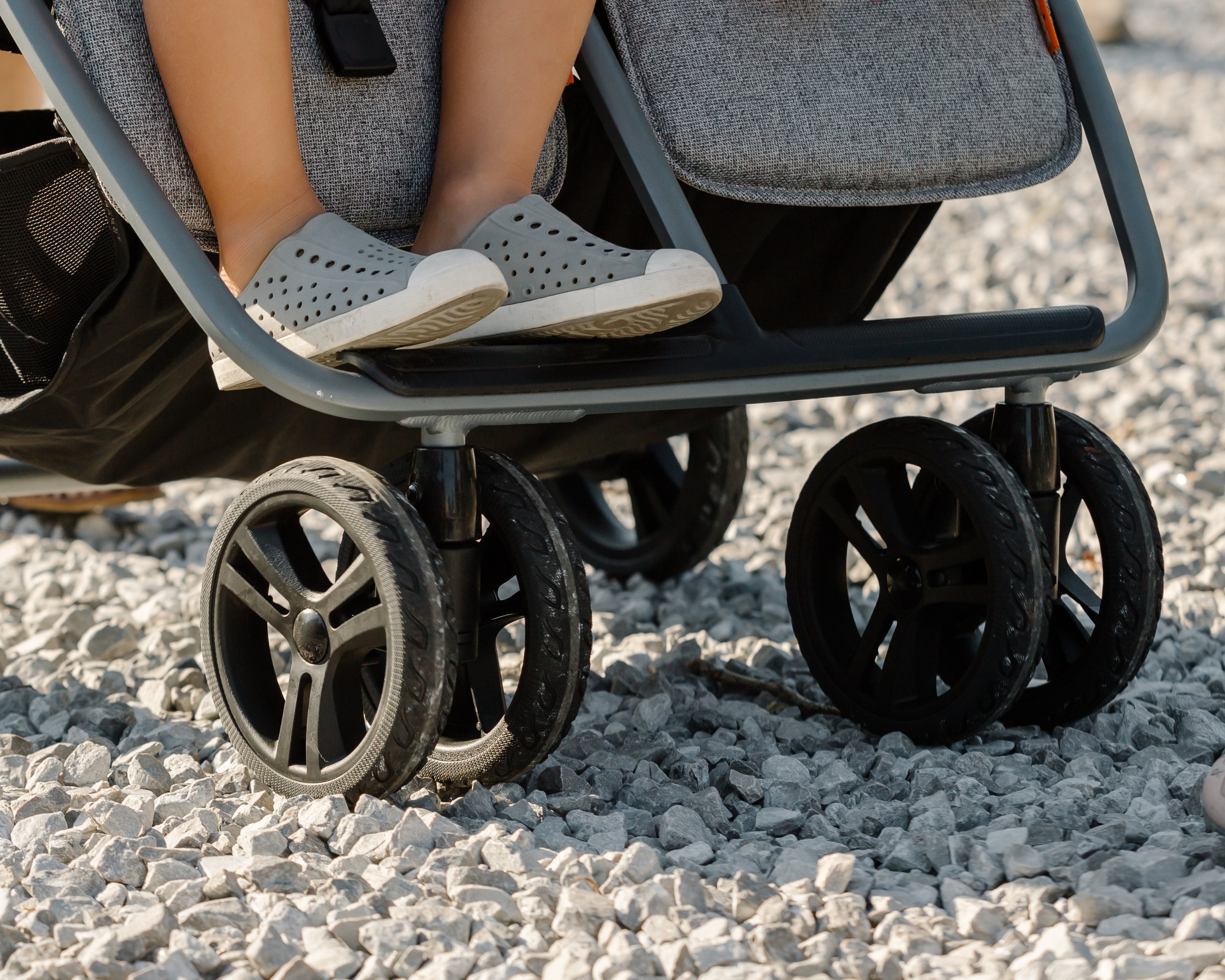 To see all about All-Terrain Wheels, check out this FAQ page. 
Lightweight Travel Wheels
These original ball-bearing wheels are our smoothest, lightest wheels - ideal for travel. They come standard on all Twinᵛ¹, Trioᵛ¹, Tribeᵛ¹, Tour, and Traveler strollers.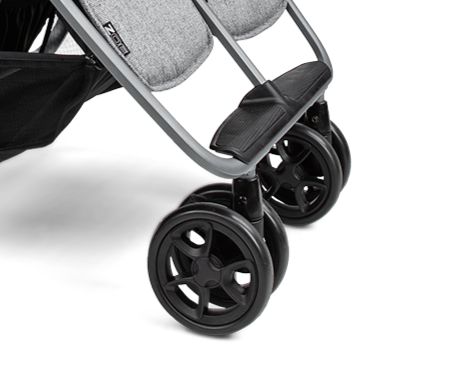 What is the size difference? 
All-Terrain Wheel Dimensions: are 1-1.5" in diameter larger than our Travel and Everyday Wheels. Additionally, the tires on the All-Terrain wheels are 1.5" wide, while our Travel and Everyday Wheels are 1" wide.
How much heavier will the All-Terrain wheels make my stroller?
Tour - 1.8lbs
Twin - 2.2 lbs
Tandem - 2.9 lbs
Trio & Tribe - 3.4 lbs
Note - this is in comparison to the Lightweight Travel wheels. To read more about All-Terrain Wheels, check out this FAQ page. 


Installing & removing your wheels
Trip/Traveler 
Tour
Twin/Trio/Tribe 
FAQs
Can I use any of these wheels on my Twinᵛ¹ or the Twinᵛ²
Yes! As long as you're purchasing a set of Twin wheels, any of our three wheel types will work.
Which wheels do I need for Disney?
Most Disney strolls will be on smooth surfaces - ideal for our Lightweight Travel or Everyday wheels. However, our All-Terrain Wheels are designed to go wherever you go! They'll give you a bit more flexibility anytime you're off the beaten path, and they'll help you navigate larger bumps, train tracks, and other obstacles with ease. 
Will my stroller still fit in my Zoe Storage Backpack with these wheels? 
Yes, current models of Storage Backpacks are designed to accommodate all of our wheel types. If you have an older backpack, the wheels can be easily removed in under a minute, and you can add them to your storage bag once they're removed. See the photos below for recommended packing in our older model Storage Backpacks: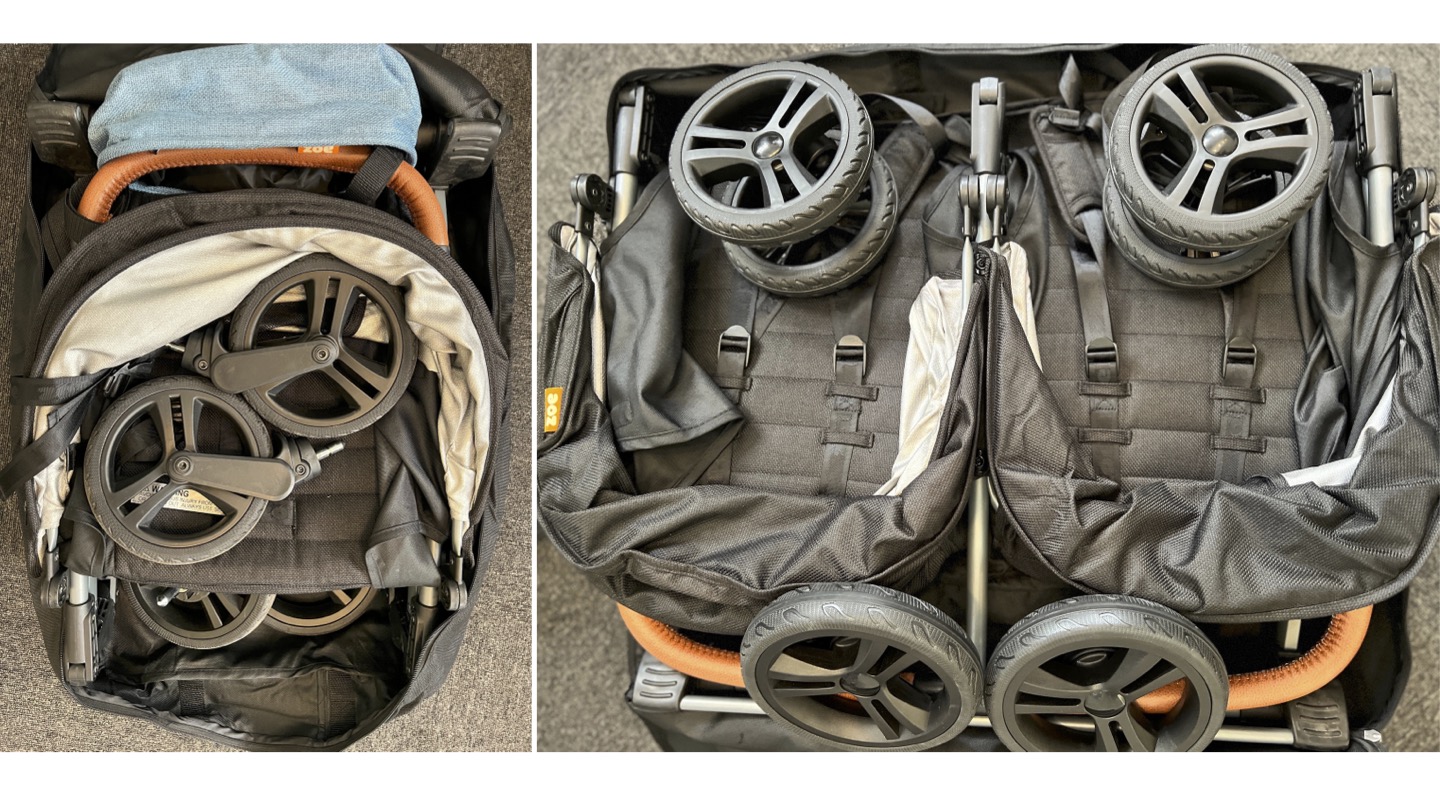 Need Help? We're Here!
Zoe's world class Customer Experience Team is here to help you every step of the way. If you have questions of any kind, please do not hesitate to reach out. 
Find us on chat most weekdays, text us (866-701-1720), or send us an email ~ [email protected].
Returns
Your kid might not have a return policy, but we sure do! We offer a 30-day trial period so you can test out Zoe products in the convenience and comfort of your own home. The goal of this policy is to let you test drive the stroller in your home and truly *feel* how awesome our products are. We know that sometimes you just need to see it for yourself and experience the ease, comfort, and simplicity of Zoe. Please be mindful of keeping items in new condition and avoid using strollers outdoors to ensure a full refund. 
Warranty
Your Zoe stroller is warranted to be free from manufacturing defects for a period of 1 year from the date of purchase under normal use and our accessories are covered for 6 months in compliance with the operating instructions.
Was this article helpful?