Foot Muff & Bunting - FAQs
Updated 2 months ago
Is this compatible with my stroller? 
If you have any of the following products, the answer Is YES!
Traveler (only the 2023 Traveler model is compatible, any previous year will not be)
Please note that these items are not compatible with the Trip.
Which one should I buy?
Our Bunting is designed for an all-over cozy experience, our ultra-plush, weather-resistant, fleece-lined bunting is perfect for little ones with shorter legs who might need a little extra help staying warm. If your little one's legs are shorter than the footrest, and your kiddos need to stay extra warm, the Bunting may be the best choice for you!
Think of our Foot Muff as the blanket that attaches to your stroller and never falls down. This ultra-plush, weather-resistant foot muff offers cozy coverage with a bottom zipper that allows for added breathing room when necessary. It blocks wind from your kiddos' legs, and snapping it to the belly bar or snack tray ensures that it stays put no matter how far you stroll. If you have older kids & their legs are a bit longer, the Foot Muff might be the right choice for your family.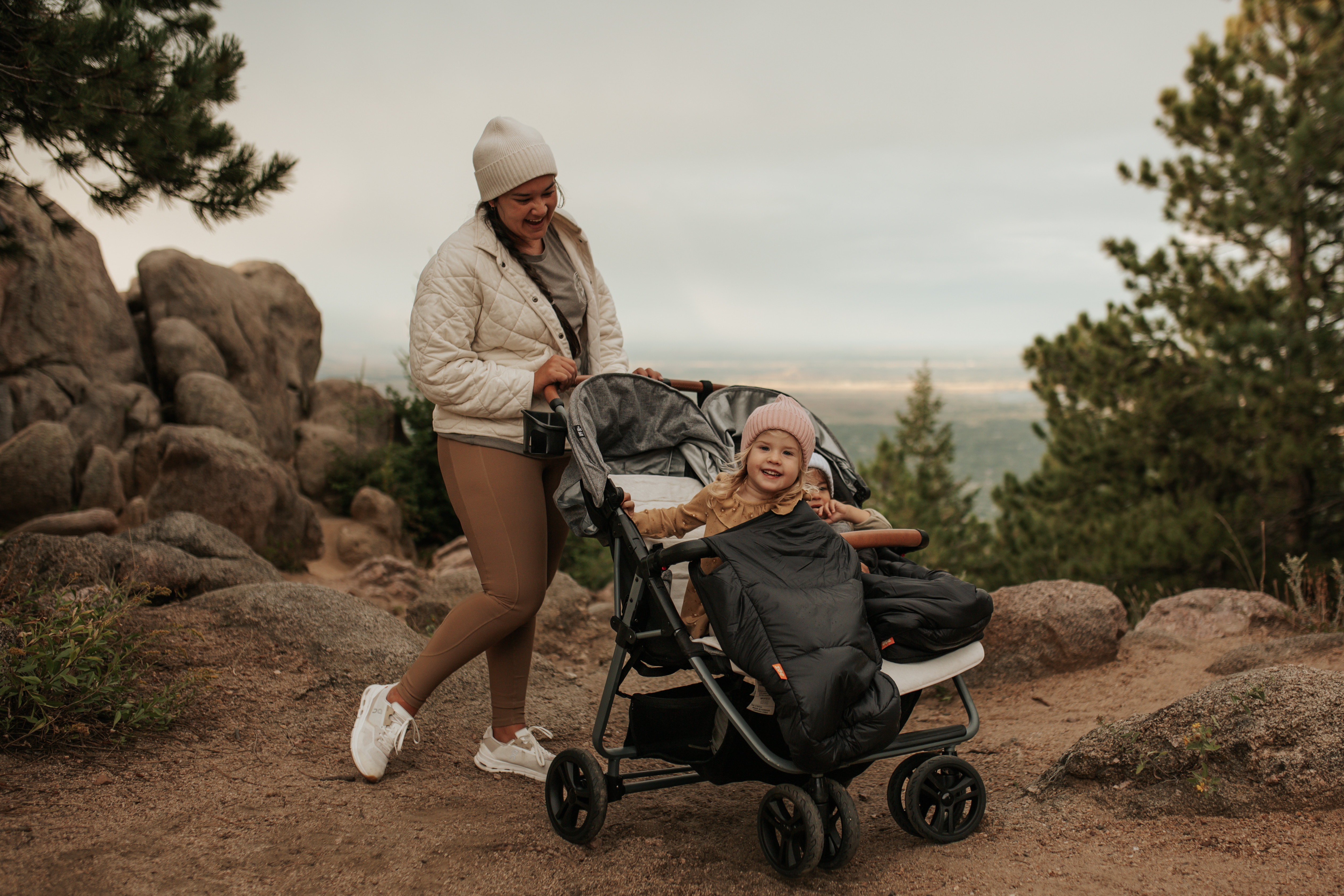 Can I fold my stroller with foot muff or bunting attached?
Yes! All of our strollers can easily fold with these attached. 


What materials are these made of?
Both the foot muff and bunting are made from 100% polyester fibers. This includes the outer, lining/backing, and filling. However, the bunting is now fleece-lined. These products do not contain down. 


Washing Instructions:
Handle with care! We recommend hand washing or machine washing with cold water on delicate/hand wash cycle. Do not iron, dry clean, bleach, or tumble dry. Lay flat to dry - away from direct heat. 
Will these keep my kiddos dry? 
Our Foot Muff and Bunting are water resistant and will help keep your little ones dry if you're caught in light rain/snowfall (much like a puffer jacket). If you're expecting severe weather, check out the Rain Cover - it adds an extra layer of protection and fits on top of our cozy layers.
Installation
Check out our installation videos.
Can I use these with a snack tray?
Absolutely! The bunting attaches to the seat and does not impact the snack tray at all. For the Foot Muff, check out the photos below to see how your kids can stay cozy & enjoy easy access to snacks. 
Was this article helpful?